The Brooklyn College Cancer Center (CommUnity Outreach, Research and Education) BCCC-CURE is a center established in 2020 at Brooklyn College of the City University of New York. The mission of the center is to enhance the lives of patients affected by cancer with a special focus on Brooklyn residents. Through this center, Brooklyn College seeks to expand its fundamental (basic and applied) research on cancer and combine research forces with local (New York City) cancer treatment centers and hospitals, and Brooklyn communities, while delivering first-class educational opportunities to our undergraduate and graduate students.
Twenty two faculty members are already engaged in cancer or cancer-related research at Brooklyn College. Although many of the center's activities began in fall 2020, the center's official inauguration will be held in Spring-Summer 2022.
Check our news section and seminars/events links to see what we are up to.
SUMMER EDUCATION AND COMMUNITY OUTREACH PROGRAMS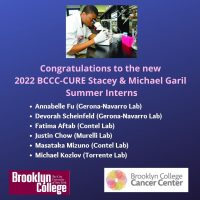 Stacey & Michael Garil 2022 Summer Research Internship Program
Working at the forefront of cancer research.
Thanks to the generosity of Bernard '62 and Ethel Garil, the Brooklyn College Cancer Center (BCCC-CuRE) is excited to announce its paid summer cancer research opportunity for undergraduate students, the Stacey & Michael Garil Summer Research Internship.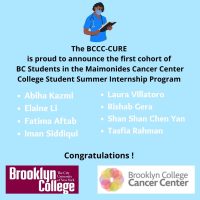 Maimonides Cancer Center College Student Summer Internship Program
Medical shadowing program with clinical cancer specialists.

BCCC-CuRE has partnered with Maimonides Cancer Center College Student Summer Internship Program, a summer immersive shadowing program for college students to experience the full multidisciplinary spectrum of colorectal cancer care at the Maimonides Cancer Center.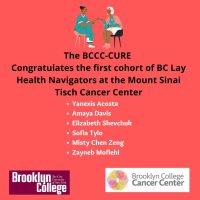 Mount Sinai Tisch Cancer Center Lay Health Navigators Program
Community outreach initiative bringing bilingual health ambassadors to the Brooklyn community. 
BCCC-CuRE is partnering with The Tisch Cancer Institute Community Outreach and Engagement Program at Mount Sinai to launch the Mount Sinai Tisch Cancer Center Lay Health Navigator Program at Brooklyn College. Lay Health Navigators reach out to community members to improve access to cancer screenings and care, especially among underserved communities across NYC. BC Students in the Lay Health Navigator program will learn to guide patients through the health-care system so that they may receive medical services, such as a cancer-screening test.