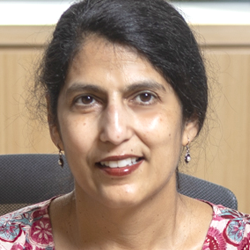 Singh, Shaneen
Associate Professor, Biology, Brooklyn College (CUNY)
Academic Appointments:
Full Professor, Department of Biology, Brooklyn College, The City University of New York
Faculty, Chemistry, Biology and Biochemistry PhD Programs, The Graduate Center, The City University of New York.
Degrees:
Ph.D. (Biotechnology), Thapar Institute of Engineering and Technology, India
M.S. (Biotechnology), Punjabi University, India
B.S. (Life Sciences), Punjabi University, India
Research Focus:
The research focus of my lab is the application of computational approaches to gain insight into cellular signal transduction pathways, and the normal and aberrant functioning of proteins and protein domains. A novel feature of our approach is the integration of bioinformatics tools to analyze genomic and proteomic data with detailed computational analysis of the physical interactions. The computational models that we derive provide novel insights into the molecular basis of the formation and regulation of complexes and, thus, allow us to suggest rational and experimentally testable predictions as to their function. Overall, my lab has extensive expertise in the analysis of protein sequences and structures and is heavily involved in expanding our research to relevant cancer biology questions that encompass several new proteins/protein domains. The current cancer-related projects in the lab involving key protein players in oncogenesis include the interaction of nucleolin with different RNA species, computational characterization of the protein-protein interactions of the  NEK family of proteins, protein-protein interactions of p27, and the membrane-protein interactions of the GAB family of proteins.
Selected Publications:
Barreto C, Silva A, Wiech E, Lopez A, San A, Singh S. (2022) Proteomic Tools for the Analysis of Cytoskeleton Proteins. Methods Mol Biol. 2022;2364:363-425. doi: 10.1007/978-1-0716-1661-1_19. PMID: 34542864.  2022
Jalali, S., Yang Y., Mahmoudinobar F., Singh, S.M, Nilsson, B., and Dias, C. (2022) Using large-scale and long-time all-atom simulations to study the aggregation of amphipathic peptides into amyloid-like fibrils. Journal of Molecular Liquids 347, 118283
Philip J, Örd M, Silva A, Singh S, Diffley JF, Remus D, Loog M, Ikui AE. (2022) Cdc6 is sequentially regulated by PP2A-Cdc55, Cdc14, and Sic1 for origin licensing in S. cerevisiae. Elife. 2022 Feb 10;11. doi: 10.7554/eLife.74437. PubMed PMID: 35142288; PubMed Central PMCID: PMC8830886.
San A, Palmieri D, Saxena A, Singh S. (2022) In silico study predicts a key role of RNA-binding domains 3 and 4 in nucleolin-miRNA interactions. Proteins. 2022 May 5;. doi: 10.1002/prot.26355. [Epub ahead of print] PubMed PMID: 35514080.
Murph, M., Singh, S., Schvarzstein, M. (2021) The Centrosomal Swiss Army Knife: A combined in silico and in vivo approach to the structure-function annotation of SPD-2 provides mechanistic insight into its functional diversity. Cell Cyle (In press; preprint available from bioRxiv 2021.04.22.441031)
M Scarpati, Y Qi, S Govind, S Singh. (2019) A combined computational strategy of sequence and structural analysis predicts the existence of a functional eicosanoid pathway in Drosophila melanogaster. PloS one 14 (2), e0211897 [PMID: 30753230]
VR Aitbakieva, R Ahmad, S Singh, AV Domashevskiy (2019) Inhibition of ricin A-chain (RTA) catalytic activity by a viral genome-linked protein (VPg) Biochimica et Biophysica Acta (BBA)-Proteins and Proteomics 1867(6):645-653 [PMID: 30822539]
Heavner, M.E., Ramroop, J., Gueguen, G., Ramrattan, G., Dolios, G., Scarpati, M., Kwiat, J., Bhattacharya, S., Wang, R., Singh, S., Govind, S. (2017) Novel Organelles with Elements of Bacterial and Eukaryotic Secretion Systems Weaponize Parasites of Drosophila. Current Biology 27, 2869-2877. [PMID: 28889977]
Grants over the last 5 years:
PSC-CUNY. An in silico approach to decipher the mechanism of Cdc6 interactions with key interaction partners.  (2022-2023)
Tow Research and Creativity Grant. In silico study predicts a key role of RNA-binding domains 3 and 4 in Nucleolin-miRNA interactions. (2022)
PSC-CUNY. Building a Nek10 interactome: A cancer-focused computational approach to map Nek10's interacting protein partners. S. Singh. 1 year (2021-2022)
In silico modeling of p27Kip1 with the Brk SH3 domain and variants to develop a p27drug candidate for treatment in cancer. Concarlo Holdings LLC., 1 year (2018-2019)
PSC-CUNY Traditional A : Role of the Gab family pleckstrin homology domains in cancer: A computational study. 1 yr (2018-2019)