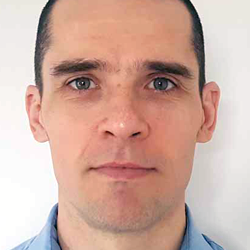 Caviglia, Jorge Matias
Assistant Professor, Health and Nutrition Sciences, Brooklyn College (CUNY)
Academic Appointments:
Assistant Professor, Department of Health and Nutrition Sciences, Brooklyn College, The City University of New York
Degree(s):
Ph.D. University of La Plata, Argentina
M.D. University of La Plata, Argentina
Research Focus:
We conduct research on non-alcoholic fatty liver disease (NAFLD), which is strongly associated with obesity and metabolic syndrome and is the most common liver disease. This research focuses on the mechanisms of progression of NAFLD, which can lead to cirrhosis and liver cancer. He uses animal models of NAFLD to better understand the role of the gut microbiota and TLR signaling in the development of NAFLD. The objective of this research is to identify new targets to prevent and treat this disease.
Selected Publications:
St Rose K, Yan J, Xu F, Williams J, Dweck V, Saxena D, Schwabe RF, Caviglia JM*. Mouse model of NASH that replicates key features of the human disease and progresses to fibrosis stage 3. Hepatol Commun. 2022 Oct;6(10):2676-2688. doi: 10.1002/hep4.2035. PMID: 35923109
Filliol A, Saito Y, Nair A, Dapito DH, Yu LX, Ravichandra A, Bhattacharjee S, Affo S, Fujiwara N, Su H, Sun Q, Savage TM, Wilson-Kanamori JR, Caviglia JM, Chin L, Chen D, Wang X, Caruso S, Kang JK, Amin AD, Wallace S, Dobie R, Yin D, Rodriguez-Fiallos OM, Yin C, Mehal A, Izar B, Friedman RA, Wells RG, Pajvani UB, Hoshida Y, Remotti HE, Arpaia N, Zucman-Rossi J, Karin M, Henderson NC, Tabas I, Schwabe RF. Opposing roles of hepatic stellate cell subpopulations in hepatocarcinogenesis. Nature. 2022 Oct 2022 Oct;610(7931):356-365. doi: 10.1038/s41586-022-05289-6. PMID: 36198802
Affo S, Nair A, Brundu F, Ravichandra A, Bhattacharjee S, Matsuda M, Chin LK, Filliol A, Wen W, Song X, Decker A, Worley J, Caviglia JM, Yu L, Yin D, Saito Y, Savage T, Wells R, Mack M, Zender L, Arpaia N, Remotti HE, Rabadan R, Sims P, Leblond AL, Weber A, Riener MO, Stockwell B, Gaublomme J, Llovet JM, Sia D, Michalopoulos GK, Seki E, Chen X, Califano A, Schwabe RF Promotion of Cholangiocarcinoma Growth by Diverse Cancer-associated Fibroblast Subpopulations. Cancer Cell. 2021; 39(6):866-882 PMID: 33930309
Caviglia JM, Yan J, Jang MK, Gwak GY, Affo S, Yu L, Olinga P, Friedman RA, Chen X, Schwabe R*. MicroRNA-21 and Dicer are Dispensable for Hepatic Stellate Cell Activation and the Development of Liver Fibrosis. Hepatology. 2018 67(6):2414-2429. PMID: 29091291
Yan J, Caviglia JM, Schwabe RF Animal models of HCC – when injury meets mutation. J Hepatology 2018; 68(1):193-194. PMID: 29153595
Caviglia JM, Schwabe RF. Mouse models of liver cancer. Methods Mol Biol. 2015; 1267:165-83. PMID: 25636469
Caviglia JM and Schwabe RF "Experimental Hepatocarcinogenesis." (REV) Pathobiology of Human Disease: A Dynamic Encyclopedia of Disease Mechanisms. McManus, Linda M. and Mitchell Richard N. Elsevier 2014. (Chapter of book)
Dapito DH, Mencin A, Gwak GY, Pradere JP, Jang MK, Mederacke I, Caviglia JM, Khiabanian H, Adeyemi A, Bataller R, Lefkowitch JH, Bower M, Friedman R, Sartor RB, Rabadan R, Schwabe RF. Promotion of hepatocellular carcinoma by the intestinal microbiota and TLR4. Cancer Cell. 2012; 21(4):504-16. PMID: 22516259
Patents:
None
Grants over the last 5 years:
NIH-NIDDK
R15: Academic Research Enhancement Award for Undergraduate-Focused Institutions
"ABHD5 Enzymatic Function and Role in Lipolysis"
9/2021-8/2024
The goal of this project is to elucidate the function of ABHD5 and its role in triacylglycerol lipolysis, with a research group formed mainly by undergraduate students
PSC-CUNY
Research Award (PI) – Traditional A
"SRA1 role and therapeutic target potential in Non-Alcoholic Fatty Liver Disease"
07/2021 – 06/2022
The goal of this project is to experimentally investigate the function of SRA1 in liver cells to determine its potential as a therapeutic target for the treatment of NAFLD.
PSC-CUNY
Research Award – Traditional B
"TLR4 role in non-alcoholic steatohepatitis-related liver fibrosis"
The goal of this project is to study the role of TLR4 in liver cell populations with the objective of identifying new putative therapeutic targets.
07/2019 – 12/2020
NIH/NCI
NCI Transition Career Development Award to Promote Diversity (K22)
"TLR4 in obesity-driven liver cancer "
09/2013 – 08/2018 –
The aim of this project is to investigate the mechanisms of obesity-related hepatocarcinogenesis
NIH/NCI
NCI Transition Career Development Award to Promote Diversity (K22)
"TLR4 in obesity-driven liver cancer "
09/2013 – 08/2018 –
The aim of this project is to investigate the mechanisms of obesity-related hepatocarcinogenesis